Messages

14
Location
Vehicle

T4 PopTop
So, I have searched to the end of the internet and back and not yet found a single entry of anyone else with the same T4 pop top roof problem as me. Can that really be...??
The problem is that the two wires running vertically inside each side of the H bar system have both broken within the last year.
It is the middle bar of the "H bars" that I use to manually push up/elevate my roof (and pull it back down). Inside each of the two vertical bars is a metal wire connected to some sort of spring that minimizes the weight of the roof significantly. Very clever and an almost unnoticeable feature. Until it breaks!
BUT Yesterday the second wire broke/snapped (the first broke about a year ago). Both due to 28 years of wear and tear I guess
Several questions rise from this...:
No. 1: Has anyone else experienced the same???
2: Can I get replacement wires? And where?
3: If not, where can I find a full replacement H frame system? I have search everywhere for that, too...
I really, REALLY hope you guys can help me. The roof has become super heavy now for one person, and I use my California "Turtle" everyday as my only home for the moment, loving each time I sleep "upstairs" even when it's cold outside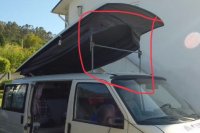 The H frame (not my van)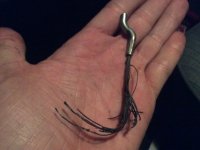 The top end of the wire.