steve_b
VIP Member
Lifetime VIP Member
Messages

278
Location
Vehicle

T5 SE 130
In case it is useful to anyone, the factory fit awning on my 2008 SE would wind out but not retract - the mechanism just made a clicking sound when winding it back in and the awning had to be helped considerably to get back in - also it didn't go tight against the rail so I was concerned that one day I would see it in my rear view mirror when driving.
Anyhow - gearboxes are available from the club shop here:
The bit needed is part 8 - LH assembly and gearbox.
Installation is pretty easy , you need a short medium philips and surprisingly a small philips head screwdriver.
Firstly open the awning completely and prop up on legs as usual - you want the canvas rolled out all of the way to release the tension on it.
Then at the inside left end of the awning there is a single screw that needs to come out which holds the decorative end cap on. It's a pain to get to so you need a short screwdriver, I used a stubby Philips #2. I have outlines it red here (note I have already taken the end cap off before I took the picture)
The end cap then needs to be pulled away and down - apart from the screw you just removed there are 4 clips on the sides of the cap which hold it to the gearbox - you can see where they are by examining your new gearbox and look for the indentations in the side, but after some ineffective faffing a good tug out and down sufficed for me. Just make sure you go down as well as out as you need to go over the metal nipple where you put the handle in.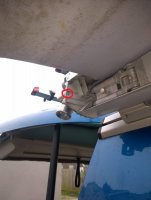 You can then either stand on something sensible or balance precariously on the rear bumper and see the back of the gearbox with three obvious screws - which had surprisingly small heads on, Philips #1 - a "normal" #2 head was far too big and would have rounded them off. unscrew these three and the gearbox just pulls off of the shaft - the canvas is fine as you have unwound it so nothing springs or jumps out at you.
What you are then left with it this below - you can see the shaft end marked with an orange X, and the 3 screw holes in red. Slide the new gearbox over the shaft , plastic faceplate side first, wiggle the lot back up to the rail so that the plastic face plate goes inside the rail , three screws here, cover clips back on, one screw inside, job done - good as new, it winds out and back in smoothly and winds in tight.
Ten minutes including a cup of tea if you have the right tools handy.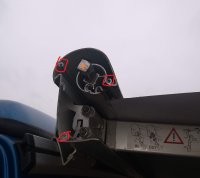 Now does anyone know how to open the old gearbox to see what is wrong.. I have read that there is a plastic gear inside, I wonder if that is replaceable somehow.