andrew bazeley
VIP Member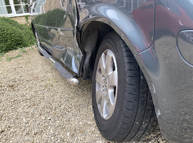 Oh dear - after 14 years of preserving my high-spec gorgeous Cali 2.5 TDi, I've managed to get involved in a nasty crash. Driver door bashed in (and my right ear gone deaf because of the very efficient airbag!), and both front wheels bent.
The reason I've posted this here is because the insurance assessor looked at it disapprovingly, and was clearly intending to categorise it as a write-off. But as I gave him a guided tour of the van, and explained how precious, practical and original it was (and how much a new one would cost!), he was mighty impressed and converted: now they are fixing it!
We have a wonderful vehicle worth preserving, friends.