Messages

1,392
Location
Vehicle

T6 Ocean 204 4Motion
Me: Ok, go straight or turn right?
Wife: er …. Ahem … mmmm …
Me: OK, lets turn right
Well, the plan was to go to Switzerland, but the day before we were to leave for Switzerland, it was taken off the UK's free travel corridor list. So plans had to be changed last minute … literally last minute … and that just highlighted the flexibility of the California. So Portugal it was.
Now, to be fair, what I have on Google maps are personal maps such as:
- Switzerland 202-
- Portugal 202-
- Scandinavia 202-
- Northern Lights 202-
- Russia 202-
- Poland 202-
- Eastern Europe 202-
... So you see where I am going with this. All I had to do was to rename one of the files and my trip itinerary was ready. A basic level of planning was already in place. Switzerland 2020 was reverted to Switzerland 202- and Portugal 202- was renamed to Portugal 2020.
On our travel style - we like to see and get a vibe of the place we visit, see the streets, old town places. We do not stay at one place for more than 2-3 days. All our trips are planned with this focus. In addition, this time around, taking the ferry was off the cards, so driving it would be. With just the two of us, while driving we are observing surroundings and often chatting away about life and various other things ... and time flies.
This was to be a 2 week trip, again, approximately. We are always flexible to change our itinerary if need be.
So Portugal it was - with the route map as below. Approx 3800 miles, but with such a super comfortable vehicle, that can munch miles, I was looking forward to this.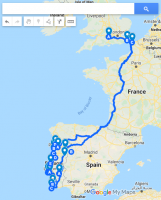 For those who want to copy the map and edit it as needed, here is the link -
https://www.google.com/maps/d/edit?mid=1svYAGjADWAEDaYoQt7-fyYzZ9-UFqoja&usp=sharing
Finished work by 4pm Friday. The Cali was already loaded and ready with a full tank of Fuel and water.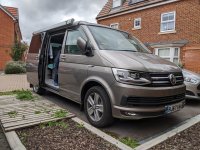 Reached Folkestone on time and straight on to the shuttle. As you can see, not too many people at this time of the evening
we had our crossing at 8:20 pm.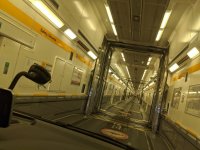 One we got off the shuttle, we drove for about 2 hours, 12 pm local time in France, before we decided to call it a day. Pulled into the next available Aire, just outside of Rouen, France, opened the poptop and had a nice sound sleep.
We usually select Aires with attached fuel stations so that the place is not deserted at night and also we can use the facilities at the fuel station. This pic is midnight, but the camera just makes it look more day than night
.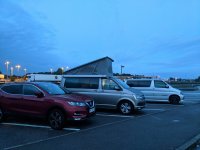 An early morning start the Saturday at about 6 AM saw us hitting the empty motorways for a nice drive to make up more miles.
Another stop later in the day for breakfast ...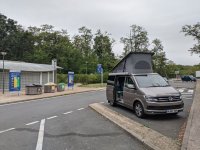 by evening we were near Leon, and just a few hours from our first destination in Portugal - Porto. Called it a day at another Aire just outside of Leon and had a good night's sleep. it is surprising how well you can sleep in the poptop. All through the trip, not once did we use the downstairs bed. it was always up top in the poptop.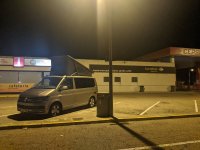 An early morning start, saw us entering Portugal and straight to Canidelo camping on the Coast just outside Porto. This was our first stop and the campsite was booked for 2 nights. Our original plan was to go to Braga and Amarante, before Porto. Having our house with us, enabled us to change our plans. So Porto it was. Campsites are quite flexible when it comes to bookings.
Well, we were in Porto at the campsite at 8AM. The office opened at 9, so it was breakfast in the van, parked up by the beach.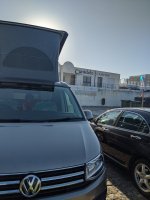 After breakfast, got into the campsite, parked up and had a nice warm shower ... and all ready to get into Porto.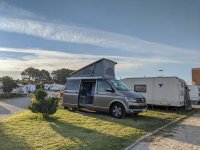 The campsite was very conveniently located a 30 minute walk along the coastline into Porto, along the Duoro river. All that you have to see in Porto is mostly along the Duoro River.
Below is the new bridge that connects the north and the south sides of the river near the river mouth.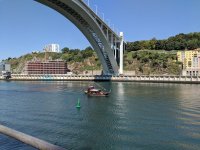 A bit more walking upstream and you come across the main part of the south side and you get the first glimpse of the most famous bridge in Porto - Luís I Bridge. There are many eateries along the river front and you are spoilt for choices on food.
The easiest way to get to the top bridge level, from where you have great views of Porto is by cable car. So here we went, in the cable car, to the top level of the bridge.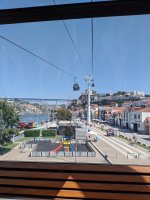 With such wonderful weather, we could walk all around the place, enjoy the sunshine and the city famous for its wine - Port wine.
Last edited: