Messages

238
Location
Vehicle

T6 Ocean 150 4Motion
Drove after a lovely starlight blue(?) Cali from south of Hjo, Sweden, that turned right at Gustav Adolf. License plate OW..... with two bikes on a rack which of one was red.
Had big "shields" as stickers on the side of the front doors, Google-fu can't find it to be a rental.
Flashed my headlights, honked the horn and waved like a madman after you turned.
You on here?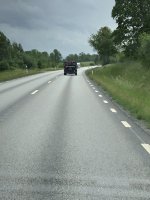 Photo courtesy from my kid.
No luck with Cali waving today... waved at three after seeing you off but they didn't wave back. The just looked at me like I was crazy