A brandrup flexbag cargo that fits the T5 and T5 style T6 bike rack. It is not designed for the T6 style racks.
It's 130cm wide, 30cm deep and 60cm high approx. Sits on the bike rack and still allows two bikes to be on the rack.
It's in very good condition, has only been used a couple of times. Stock photo because it's not on my van at the moment.
More information here:
https://vwcaliforniaclub.com/shop/p...riginal-volkswagen-t6t5-tailgate-bicycle-back
or here:
https://www.brandrup.de/en/brandrup.../vw-vehicle-exterior/vw-load-bearing-devices/
These cost £220 new. Looking for £140 + £10 postage, or collection from Farnham, Surrey.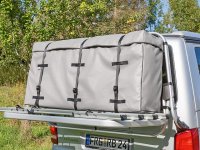 Last edited by a moderator: