Messages

36
Location
Vehicle

T6 Ocean 199
Hi
I have just bought a 2019 T6 California Ocean with the Navigation system "Discover Media Plus". I am trying to use Apple CarPlay via App connect and USB.
I have an iPhone 13 ProMax running iOS 15.6.1 and have tried connecting via both USB ports using a genuine Apple cable as well as several others.
There are no issues connecting the phone by bluetooth and when connected by USB I can access all of my music and playlists.
When I plug in or click App Connect I get a message that the iPhone will no longer be available for selection as a media source then iPhone disconnected - "please ensure that your iPhone is unlocked".
I have obviously unlocked the phone both before connecting and afterwards, ensured that access to USB is allowed, ensured that Siri is active, reset my phone and reset the VW system to factory settings but I am still unable to get the CarPlay Working.
Anyone had similar issues or a solution?
Cheers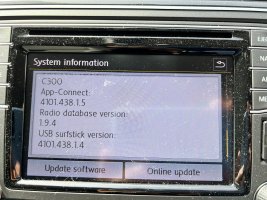 Last edited: