Messages

271
Location
Vehicle

T6 Ocean 150
Hi
I'm Stephen and live in Kendal with my French partner Dominique and daughter Zoe. So we'll be using our Cali a lot travelling around France I hope. I've just been across to Northern Ireland to pick up our new ex demo Ocean from their only Cali dealer in Dungannon. I first contacted them last Spring, so I think like most new owners I've had plenty of time to read the forum and get lots of helpful advice - thanks everyone, it's a really great resource and friendly community.
After flying to Belfast and being met by Mark Charles, the salesman, I spent the next day in the rain and gales visiting the Giants Causeway and returned the following day via the ferry and southern Scotland. The photos are in Galloway.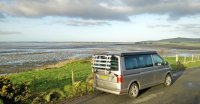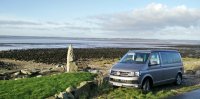 For anyone considering buying I hadn't initially thought of going to NI, but it turned out to be really easy. The dealer was great, the price very competitive and the the flight over and ferry back was only around £100. I think I read elsewhere they also ship vehicles across if you need it.
I feel I should just mention the roof corrosion issue. I'm grateful to Snowy for bringing it to our attention. I could have pulled out of the deal without losing anything, but at the end of the day decided to go ahead. It's our first camper and the pluses seem to outweigh the minuses. I think it's disgraceful that VW haven't come up with a permenant fix over the years. However it can't be rocket science and I'm hoping they will have in the next couple of years before my warranty expires. I spoke to the dealer about it and interestingly I seemd to know more than him about it, regarding the T6 anyway. (And no I haven't checked under the roof seal and probably won't until it's necessary)
So I'm looking forward to using it, continuing to read the forum and Bon Voyage!