Messages

11
Location
Vehicle

T6.1 Ocean 199 4Motion
Davo did you find the part number as the same just happened to us !
Yep, so in all the online versions of the top bed diagram I couldn't find the number but my garage sent me a snippet of their diagram.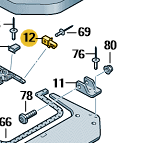 It was piece number 12. One of the issues of installing it myself was that in order to fix the rivets on the side, you need to remove the canvas in the roof. My garage were great and said it was still under warranty so they did it for me at no cost. But it was trickier than it looked initially.