Elly Swanson
Top Poster
VIP Member
Messages

1,747
Location
Vehicle

T6 Ocean 150
Again only in the garden due to lockdown 2. But this could easily be made outdoors when camping. It could all be done with 1 pan and a dish. All thCobb stuff fits in one bag.
10 Aussie charcoal heat beads, 1 firelighter and Kellie kettle to start them off. Whilst going grey there was enough heat to par boil the potatoes for 10 minutes.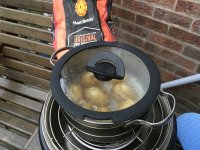 Potatoes were drained and left to air dry and vent the steam.
Then onions, carrot and celery were fried off and beef mince and garlic added.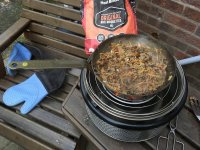 Tinned tomato mix (extra left over from a pizza sauce mix and frozen), dried Italian herbs, tea spoon of marmite (ooh, umami yum), S&P and chicken stock made from last week's Cobbed roast chicken carcas.
Next the white roux sauce: butter, flour, milk, grated nutmeg and ground pepper - no salt as grated cheddar cheese was beaten in.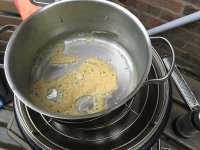 T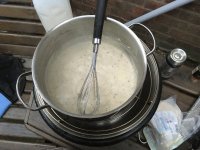 All the "hob-type" cooking done so grill plate & roasting rack in place and lid put on the Cobb to heat the oven. After a little while the potatoes were rubbed with oil and put on the rack in the Cobb.
Building the lasagne: a layer of the meat/tomato mix topped with sliced mushrooms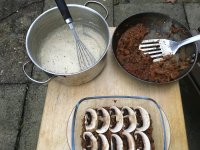 then shop bought lasagne sheets. Next some white sauce and lasagne sheets on top. Another meat/tomato and then mushroom layer. Then lasagne sheets again.
For the top layer I had some cauliflower cheese left over from the weekend and mixed it with the rest of the white sauce and plastered it over. Grated Pecorino Romano to finish.
I thought I'd have to cook over 2 levels but the potatoes fitted nicely a ring around the lasagne dish. The dish is quite deep so it'll need a bit longer than usual.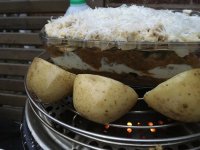 I opened the Cobb Air lid holes fully to get a good draw of air through to cooker for high heat so the potatoes will crisp and the lasagne top will crisp and go hard (just how I like them).
It was getting a bit cold and windy so I put a towel around the lid to keep the heat in, being careful not to cover the lid holes or the gap between bowl and lid, and fixed it with wooden pegs. Then put the whole thing in a flexi tub to keep the wind off, making sure there was a gap down the sides for the air to get to the bottom of the Cobb.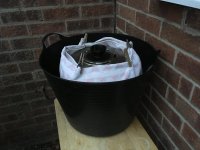 It's dark now so I'm just leaving it out in the garden to do it's stuff.
Update to come later.
Last edited: