Elly Swanson
Top Poster
VIP Member
Messages

1,967
Location
Vehicle

T6 Ocean 150
I have a Grand Ramoska that I've never taking campervanning for several reasons. One being that we're not often on EHU and another is that I'm a pretty chaotic, messy cook and can't imagine how I'd stay safe with the very hot element in such a large lid!
Anyway, the big ole gal (the cooker, not me) is pretty old and seen lots of service (actually, just like me) and is showing her age and degrading a bit (no comment). So I thought I'd get a new one.
Thinking about the van I've chosen the newer Tria, rather than just a smaller version. It has 3 lids:
a toughened glass lid to use it as a regular stovetop pan or regular oven casserole
a pressure cooker lid for use on a stovetop (low pressure so it won't be as good as a regular pressure cooker, but handy for speeding up a cook and saving fuel)
standard Remoska lid containing the element to use it as an oven
Waiting for it to arrive, fingers crossed for today.
Have any of you guys got a Tria? If so, what do you think of it and do you have any hints/tips?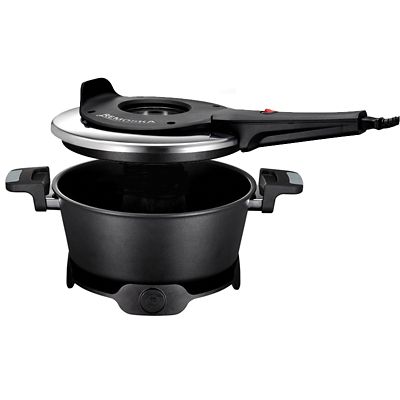 Sleek & stylish, all-in-one Remoska Oven-to-table electric cooker. Our Exclusive Lakeland 3 year guarantee is included. Plus free delivery and returns.
www.lakeland.co.uk