Borris
Super Poster
VIP Member
Messages

5,344
Location
Vehicle

T6 Beach 150
After a long delay we have just received a couple of these chaps: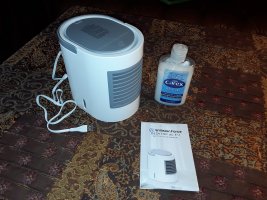 It's Williston Force desktop F11 Air Conditioning unit. The small Carex moisture bottle is only there to give some idea of scale.
We ordered them when Canada was experiencing that recent blistering heat wave on the assumption that we may experience something similar in the days that followed. Fortunately that didn't happen which was just as well considering the delivery time.
Anyway these AC units are tiny, measuring only 17cms high (roughly 6.5 inches). Power is supplied via a micro lead (supplied) from either a charging adapter or suitable USB port. They have a small electric fan that blows air past a removable and replaceable water curtain. It has three fan speeds and different coloured lighting options for the top annular ring around the lid. The water tank capacity is 380ml and it has a working current of 0.2A - 1.0A. Working wattage is 1W -5W. Input 5v. Product size 178 x 133 x 170mm. This is all info taken from the instruction booklet. The vanes on the outlet side are adjustable both up and down.
Is it any good? I don't know yet but will give a full review once I've tested it.
Whilst we didn't buy them with the Cali in mind, having unwrapped them, it has struck me that one might be ideal for use in a Cali. We only bought them after reading the rave reviews on their capabilities. We shall see!
How much I hear you ask? Well there was a special offer on at the time and from memory they were about £140 for the pair. Mrs B did the purchasing but I am reasonably confident in that figure being correct.
Some more pics: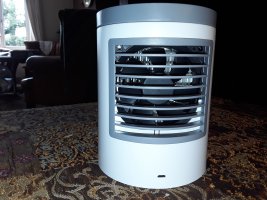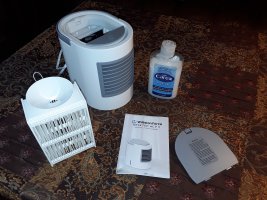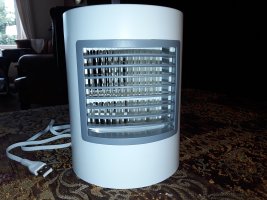 Last edited: