Messages

117
Location
Vehicle

T6 Ocean 150
Hi
Can anyone advise me on this issue:
- Whilst away on holiday I noticed some strange things happening with the battery voltage shown on my solar display
- It seemed to fluctuate up and down and never fully charged upto 14.4v even when driving (it used to always show 14.4v after sitting in the Sun or being driven with Lighs on for a journey) - now max it charges to is 13.5v after sitting in the Sun for a whole day
- Just got in the van and it is showing 12.5v on the Camper Control Panel even after being sat in the Sun for a couple of days
- It's doing loads of weird stuff now and I never had an issue for the last couple of years that I've had the solar installed.
- Both the solar control panel and the camper control panel would always show the same voltage in the batteries when driving or if I started the engine briefly when camping, now they show different values all the time and the Voltage fluctuates wildly
The photos show both control panels captured at the same time and the difference in the displays. The first two are with the engine on and captured at same time - the second two show the engine off and captured at the same time.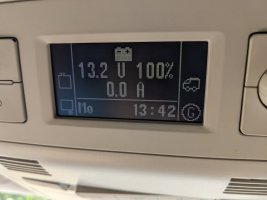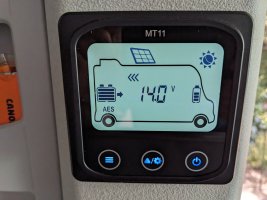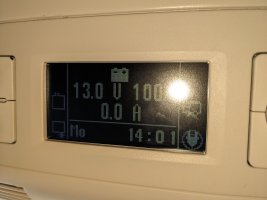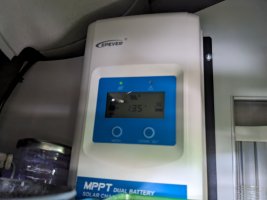 Are my batteries finished? Or is it something else? How do I troubleshoot this?
Thanks if you can help!