SpuffingtonMe
Lifetime VIP Member
Messages

32
Location
Vehicle

T6 Ocean 150
Hi - a bit of a lurker on here, thought I'd finally say hello as I inch towards taking the plunge and buying a T6.1 Cali Ocean.
Bit about me - I've been a Motorhome owner for the last 8yrs or so since my daughter was very little. Started off with an ancient Rimor Superbrig (bag of spanners), then upgraded to an early noughties Merc Hymer Starline. I then got divorced and spent around six cold months living in the Hymer before buying myself a 9m long, 6t Concorde Charisma which I lived in both in U.K. and Germany for about 3yrs.
During that time I went on snowboarding holidays in it, did the NC500 twice, travelled all over France and Germany in it and across Holland and the Lake District too. Loved it but after returning to the U.K., settling down with my new Partner, buying a house and having a young son recently, the time and money to look after an old girl like the Concorde waned and we sold her about six months ago.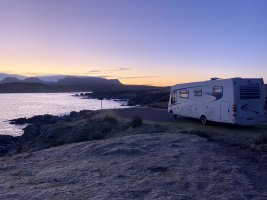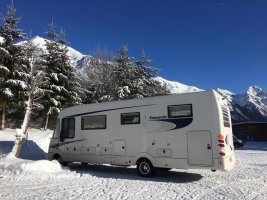 In parallel to owning the Concorde, my Partner bought a Westfalia KeplerOne on a T6 when we were living in Germany. That provided huge fun camping on the Rhein and Mosel during long weekends (stones throw from Frankfurt where we met). We imported that to the U.K. when we moved back but quickly realised that having both Concorde and Kepler meant we were barely using either of them properly, so that got sold 18months ago.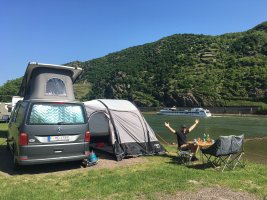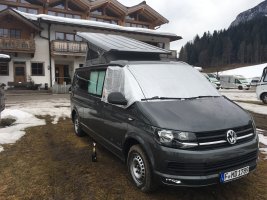 So here I am - for the first time in 8yrs I'm without a vehicle I can sleep in and as much as I love my 6months old BMW X5, I desperately want the freedom and flexibility of a Campervan.
I'm lucky enough to have experienced so many different types of Motorhome and the self sufficiency of the Kepler and although I'd excluded the California previously due to lack of toilet / hot water / space, I now think that the type of usage we'll have going forward is exactly what will suit a Cali rather than anything else.
In short I think it will suit the following:
not very regular camping (pain in the backside with 15month old son)
Regular mountain biking excursions on the weekends - having a warm base to come back to / and change in
Day van for trips to the coast with the family or hiking across the U.K.
Self sufficient on long journeys with kids in tow
Occasional night away with my 9yr old daughter for some quality daddy daughter time
Practical daily driver - no storage issues which I had with the Motorhome being in a specialist storage yard 30mins drive away.
Anyone done similar in terms of a move away from motorhomes?
I think we'll get another Concorde or a Morelo in due course but probably more likely when the kids are a lot older and we're closer to retirement and have more time to tour. In the meantime I think more of a day van suits the lifestyle with young kids.
I'm going to poke around one next weekend and then look to place a factory order for delivery next year. Some good deals from Drive the Deal and AutoeBid (£7.5-8k off list).
Look forward to hanging out here and learning from those with Cali's.