I have for some time believed that the next clean alternative to fossil fuels is Hydrogen extracted from water using an electrolytic process.
It may be a while before we see this technology coming into mainstream use as there are too many large organisations and governments with a vested interest in oil. Although a Canadian Company called Hydrogenics are doing some interesting work in this field.
https://www.hydrogenics.com/
It will also be a while before we see commercially available water/hydrogen powered cars but in the short term there is the possibility of hybrid conversions using small hydrogen generators powered using onboard 12 Volt electrics. The hydrogen is feed into the inlet manifold and burning the hydrogen with the fuel means less petrol or diesel is consumed and less pollution.
There are a lot of amateurs small companies and even some scientist who have been experimenting in the field of hydrogen boosters particularly in America and Canada. But beware there are also a lot of small HHO company's making exaggerated claims about the hydrogen conversion kits they are producing and some have even been proved to be scams.
Here is a link to a interesting site that looks at all the technology and even gives recommendations to reputable company's.
Also of interest is the water powered beach buggy designed by an inventor called Stanley Meyer. He developed a hydrogen fracturing process which with a low power electric input produced large quantities of gas that burnt at a high temperature (3000 deg F). Stanley Meyer mysteriously died just before he was about to make his technology commercially available .
http://waterpoweredcar.com/
More about Stanley Meyer and his work;
http://www.theorionproject.org/en/hydroxy.html
http://www.youtube.com/watch?v=p_cFi_kK ... ure=fvwrel
http://www.youtube.com/watch?v=CBLLOuyO ... re=related
http://www.youtube.com/watch?feature=en ... K4wko&NR=1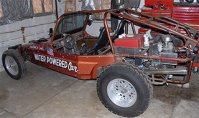 Stan Meyer's 'Water Powered Car'
as seen in January, 2008.
John