Messages

626
Vehicle

T5 Beach 4Motion
So after months of preparation, in a couple of weeks we're leaving for Iceland for a great 4x4 adventure with our California and 3 boys. It will be our 4th visit to iceland, 2nd time in summer, and it's been a dream of me ever since I've visited it for the first time to travel in a capable 4x4 vehicle through the so beautiful highlands.
So we've invested in VB Air suspension (which gives us +9cm extra clearance), a raised air intake, underbody protection and off road tyres - all with great help from other members on this forum that have gone there before - thank you.
We've seen a lot already but still there is too much to see to fit into this trip. So we're focussing on the new things for us: the highland and the westfjords. Some things are so beautiful we'll be visiting them for a second or third time though.
This time we're flying and shipping our California with Samskip from Rotterdam to Reykjavik.
I've drafted the map of our planned travel. It's based upon Iceland Trackbook and Road Atlas and I've done some research.
The Iceland trackbook has green, blue, red and black routes; green are doable for any California, the blue is doable for a modified California, and red is only for real 4x4's as they sometimes contain river crossings up to 80cm. We'll only do green and blue, and some little pieces of a red route that according to the track book should be okay (where problems lie in parts of the road we can avoid). Still we'll decide on the spot. We're travelling with children and I will not take risks - I know the dangers.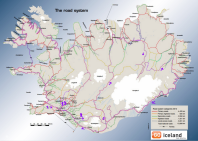 We'll start from Reykjavik and start towards Hveragerdi and the walk to the hot river. Then from Hvolsvolur we'll enter the Porsmork valley from the north (blue route 38). It's always been my dream to see the mighty Mount Maelifell - it looks like a magical place.

After blue route 38 (F261) however, we'll have to take a piece of red (route 35) which requires 24cm clearance (we have that) and 80cm water crossings (nope, won't ever think of anything above 50cm) but the crossing lies at the end and we can exit southwards to route 37 Oldufjell (F232) which is blue again.
This is one of the most critical parts. If I don't feel confident I will of course turn around.
From there we'll enter the F208 towards Landmannalaugar, then travel Sprengisandur towards Myvatn (we might do Laugafell and take F821 which looks nice or the shorter Sprengisandur N.
Then Myvatn, Dimmuborgir, Krafla (seen all of it but our children have not), then Asbyrgi, Dettifoss, Askja and on towards another long-time dream : the ice caves near Kverkfjoll.
If F88 is impassable we'll detour from one of the other routes as Kverkfjoll is a must-see.
We'll take some dotted line tracks to the Kharanjukar dam and proceed to the ring road again.
From Jokulsarlon and Skaftafell (hiking day) we'll try the small circle near Laki (route 56), but the return is also a red route, so we'll see what it says (the small circle might be doable, but there might be a 60cm crossing ).
From there the plan is to try to find trackbook route 29, not easy apparently, through a "rock garden" and proceed via F338 to Kjolur route. We'll visit Kerlingarfjoll and Hveravellir.
After that we'll say goodbye to the highlands and spend a week or whatever we have left in the westfjords before returning via Snaefellsness.
We have 23 days and we'll follow the same travel method we've been using ever since we had our california: drive every day a bit, 3-4 hours a day, never sleep twice in the same spot. So we travel light - no awnings, no toppers. Just a popup tent.. in case of high winds and not daring to sleep with the roof up. We'll have a small to medium walk (1-4h) every day and the rest of the time is them playing in nature, cooking etc.
I estimate we'll do about 2200km.
We do the highlands first, so that in case we get stuck or a car problem arrives, we still have time to recover before we need to fly home.
Our california is leaving in 2 weeks, we are flying on august 2nd and pick it up on August 3rd.
Last edited: