JimB976
JimB976
VIP Member
Messages

6
Vehicle

T5 SE 180
48 month review
Thought I'd take the time to give a longer term report on our Van, a 2012 Cali SE 180 DSG bought from the first owner in August 2016 with about 15k miles on the clock and in excellent condition, which it still is today. The van was supplied by VW Murray Van Centre, Plymouth and well-specced from both the factory and in terms of dealer options by the first owner. It had only been slept in for one night when we acquired it and the rear section had rarely even been sat in until we bought it.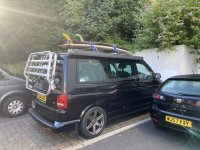 Four years of ownership later, we have added a further 16k miles which has mainly been from summer season camping / touring trips to Devon and Cornwall and a few other locations, the latest of which we completed last week. The Van is kept on our driveway year-round and we do have a cover for the worst months of the year.
The driving experience of the 180 engine is very enjoyable, you are never left wishing you had more horsepower on long hill ascents or over the course of 300 mile journeys. It is more than adequately powered and has plenty of acceleration through the gears when required. On that note, the DSG transmission makes the drive even more enjoyable. On long motorway journeys I tend to use the cruise control and slip in and out of sport mode for overtakes whereas my wife is happy to leave the van in 'Drive' and enjoy the comfort of the Captain
During the ownership period I'd say we have experienced some of the other 'typical' California and T5 180bhp foibles that owners on here have encountered, including:
- Roof corrosion warranty work (we actually didn't really have a major problem to start with but opted to have the work carried out)
- N75 valve replacement (2018)
- EGR valve replacement (2019)
- Electric Roof harness replacement (2020)
The first owner services the vehicle at Murray VW and we have maintained the van at our local VW van centre (Hatfield) throughout the last four years too. Other than items mentioned above and replacing tyres it's not needed anything in addition to the mandatory items needed as part of the scheduled servicing. Now our children are older (8 and 6) they both love to sleep up the top as opposed to one adult and child on each level for safety reasons, which is a shame in many ways as I enjoy the extra space and air flow compared to the lower bed.
We have also replaced the roof bellows as a small tear on the fabric when we got the van eventually became a larger tear. I have to say the new fabric is far better than the original that came with the van, it appears to dry faster and seems more robust.
I think the very best additions & modifications we and the first owner have made to the van, in order of benefit / payback are:
1) Brandrup seat covers (absolutely vital, especially with kids and our family love of beaches / water sports)
2) Comfortz mattress topper for lower bed (can't overstate how much this improves sleep)
3) suspension lowering kit (huge handling and road hugging upside, no more roll on bends and sweeping curves). Although we out on some attractive wheels too be careful with this as the extra rubber does affect your MPG (though with VW who knows what to believe anyway...). We kept the original VW alloy wheels for resale purposes should we move the van on in future.
4) VWCC bellows bungee (see my comment on the small tear to the bellows which was caused by the scissor lifts) - get one if you haven't already!
5) screen / door window outside insul-shade (this is so much better than using the flimsy 'pop-up' shades that come with the van)
We also have Genuine VW roof bars and Cycle rack fitted both of which have obvious benefits to a family with equipment to haul around when touring. We do have a Kampa AirPod driveway awning though in truth we haven't used this as much as we thought we would, although I can envisage this changing with the children getting older and growing in size. It's worth remembering the California is a compact camper van and children aged 2 and 4 are very different in size to a 6 and 8 year old. As they continue to grow I am sure the awning will come in to play more regularly.
Not lots more to say other than we continue to enjoy day trips out and longer breaks in the California and have another late summer adventure lined up as well as a ski trip to France next year (cancelled from April. I've attached a few photos of the Van in action, which serves tiremind me to book more trips!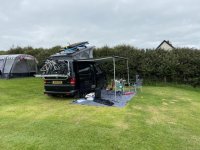 Mileage tracker / Maintenance record
20/01/2012: Delivered by Murray Van Centre, Plymouth
04/09/2014: First service (11,755 miles)
30/01/2015: First MOT (12,135 miles)
12/05/2016: Second MOT (14,385 miles)
26/07/2016: Second Service (14,885 miles)
03/06/2017: Third MOT (20,442 miles)
04/08/2017: Third Service (21,353 miles)
09/06/2018: Fourth MOT (24,242 miles)
19/03/2019: Fourth Service (26,492 miles)
08/07/2020: Fifth MOT (30,802 miles)
The vehicle has had brake fluid changes every two years and had a cam belt and tensioner change at five years / 21k miles and the auxiliary belt at seven years / 26.5k miles. It is due a major service next year and will again return to VW for this. On that subject, we have found the dealership to be extremely flexible and supportive with works being carried out, with some room for negotiation on pricing. Annoyingly I ordered two new tyres from black circles.com ahead of the recent trip, knowing that the front tyres were low but was advised by the VW dealership carrying it out that the pre-check stated it would pass and upon collection we would then take it to the fitting centre to have the front tyres fitted. It failed; which meant that we ended up putting two new tyres on the front at VW (more expensive!) and put the matching ones from black circles on the rears, so on the upside the van has new shoes all round.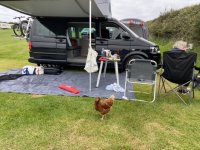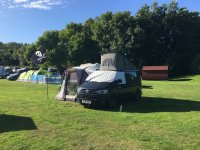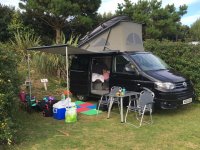 The final photo shows the old bellows (browner in colour than the replacement ones which are grey) and the original wheels fitted to the Van.