Messages

105
Location
Vehicle

T6 Beach 150
Hi all, I thought I'd offer up a quick review of the Outwell Deepcool 28 fridge having gained a lot from this forum, I found very little info on this when I was looking.
We've never had a portable compressor fridge before so I guess it's all relative to that. We've camped for years and always used an ancient old fashioned cool box which has been fine, however now we had the space for a fridge it seemed a good opportunity to make camping a little bit easier.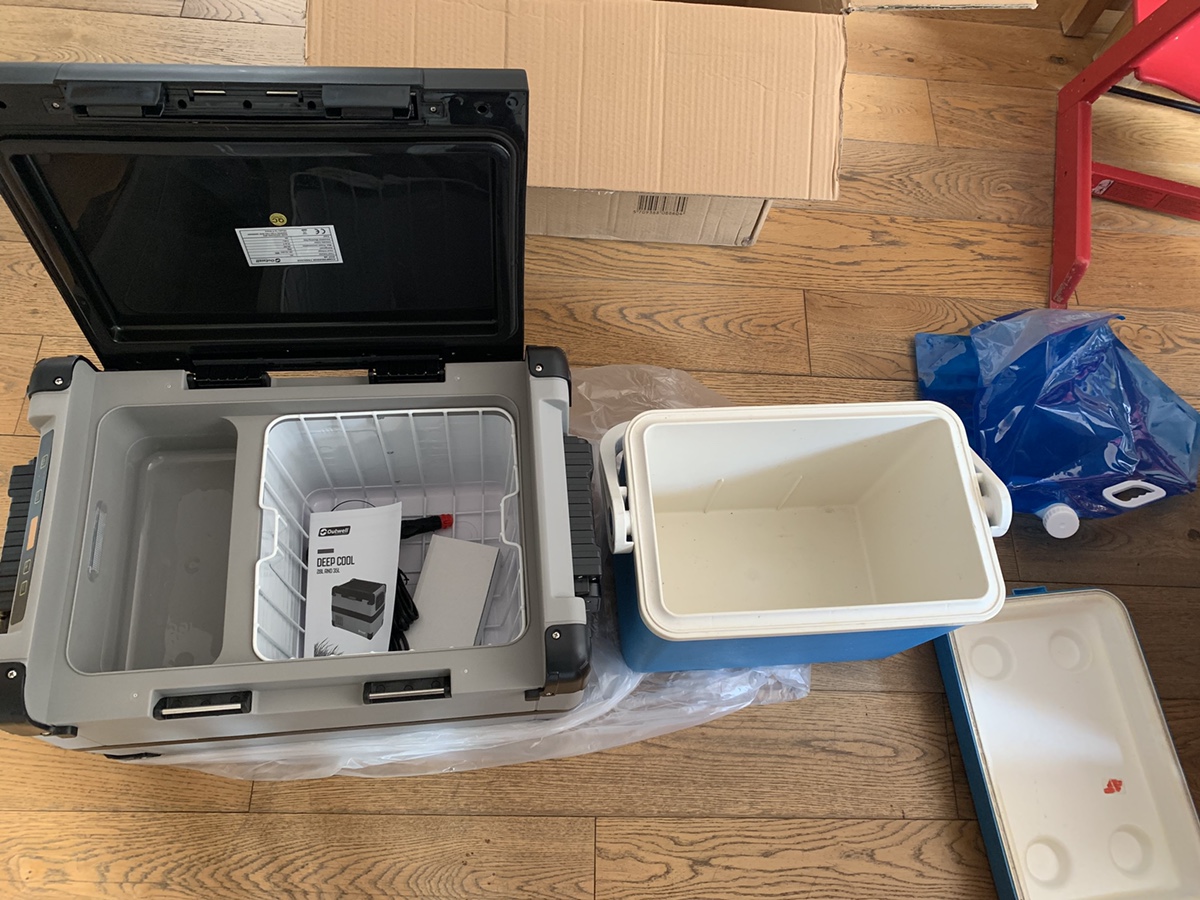 I read loads of posts on this forum about the Waeco/Dometic fridges and came to the conclusion that a 28L fridge would be the sweet-spot for us. Compressor fridges are all considerably larger than our old cool box and space is premium.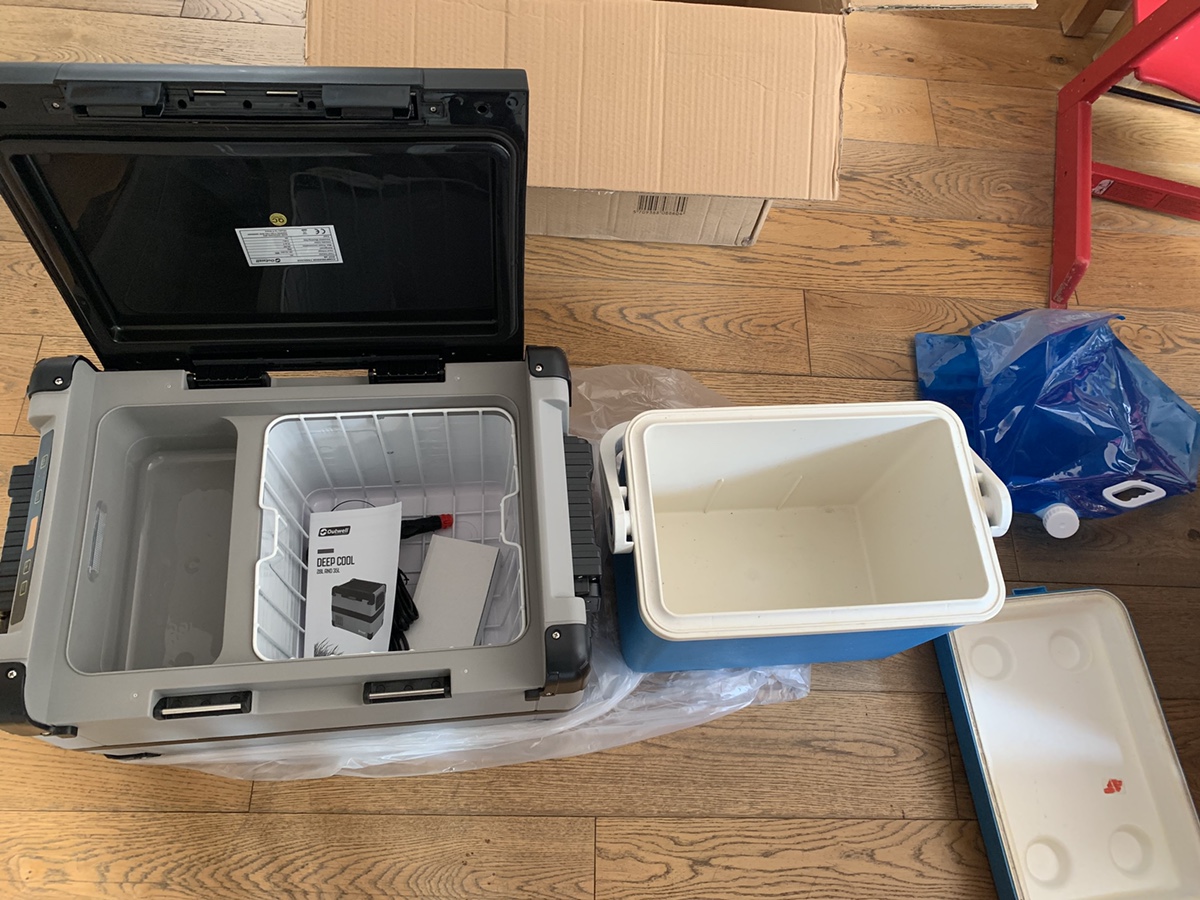 Long story short- we couldn't justify nearly £600 on a CFX-28 despite their good reviews and decided to take a gamble on the Deep cool 28 at £359.
I couldn't find much in the way of reviews on this model, and the information online about it is patchy.
The features appear broadly similar. With 3 battery protection settings, digital display, ability to use 12/24V DC or mains voltage with supplied adapters and cables.
Differences seem to be a slightly reduced temperature range on the deep cool which only goes down to -18deg C and a slightly higher energy consumption when compared to the CFX 28. Although I failed to find energy consumption data in the same units so I could compare directly, but both are A++ rated.
I can now say after a two week trip that the deepcool is as good as I'd hoped.
I ran it for two days from the Leisure battery on our Beach with only a short drive into town and with normal use of lights and phone charging etc, the LB never dropped below 12V. Our beers and food was kept chilled and we barely noticed it running even at night when sleeping. This was not the hottest of weather, it was summer in Devon, which involved a fair bit of rain!
The fridge did then get a workout in hotter weather in Cornwall running all day for days on the beach when it was left keeping things cold in a hot van. Up to this point the fridge did not miss a beat, everything was cold and battery did not suffer, but we were doing day trips so obviously charging when driving.
2 more nights of camping in much hotter weather and I had one small issue -the battery protection cutout kicked in whilst we were out, my beers rose to a terrifying 8degrees! The fridge was in the boot in the van on a hot day, probably nudging 30degrees. This was after 48hours of running without moving the van. I had the cut out set to 'medium'. When I changed the setting to 'low' the fridge kicked in and quickly got back down to 3degC. I found 3degrees a good setting for wine and beer. I then monitored the battery voltage level on the van via a cheap plug-in meter and was showing 12-12.4V so not really sure why it kicked in (cut off voltage is 11.4V for medium and 10.1V for low) Perhaps due to voltage drop to the rear of the van and with cigarette socket contact drop.
Anyway, no big issue and will probably leave on low from now on and monitor battery level but will see how it goes and potentially I'll have to do a direct connection to the battery as others have.
Things to like -
The lid is brilliant, it hinges on both sides, openable with one hand from either side. Or two hands off completely for packing.
The display is clear, easy to set up and adjust.
It comes supplied with all the cables and adapters you need including a European plug.
Voltage protection seems to work and isn't too sensitive, easy to change too.
The price, it's significantly cheaper than other brands and seems to do what I need from a fridge.
The capacity is good, there's space for a couple of meals, lunch things like butter and cheese, some veg, a couple of beers some milk and a bottle of wine.
It's really simple, no smart apps nothing like that just basic and sometimes that's refreshing!
The unit sits nicely strapped to the floor in our Beach and the lid allows your passengers to grab a cold drink or snack whilst going along.
Things to dislike-
Not much, the build quality of the casing is a little bit flimsy in places.
The wire basket could be better, ours was a bit misshapen but not a big deal.
The smaller area higher up in the fridge which is cryptically advertised as a second temperature zone is not cold like the main compartment. It's ok for things which need to be cool not cold. In freezer mode, which I haven't tested I guess this could be useful. It has no control of its own to set it individually from the main compartment.
There's no phone app or anything to warn you of a problem if that bothers you. It does flash red on the display.
Wine bottles will not stand up! What an error. You have to angle them which is a pain. 4 pint milk bottles do thankfully stand up no problem.
Hope that's of use to others looking for a fridge option on a budget.
Sent from my iPhone using Tapatalk