Messages

485
Vehicle

T5 Beach
Just thought I should start a discussion on the fact that a campervan is not always be used to camp.
I have been travelling around Spain staying in hotels and not camping. I feel really safe driving the van by myself after drooping my husband and a friend at an airport. Although some airport multistory car parks are a little difficult when sitting on the wrong side. Back to hotel where I could enjoy a good meal before the next day buying 6 bottles of wine, sherry and brandy. 27c so good excuse to drive around to keep battery charged when running cool box. A few days by myself and long days travelling but enjoyable. At least when I got to my destination there was a room a, bed, bar and restaurante waiting for me. No moving things around and cycling next day easy. More wine buying when stopping for fuel on route back to apartment. No room to sleep in the van.
Advantages - 3 of us at start of trip so maybe not enough space to camp with 3 folding bikes in the van.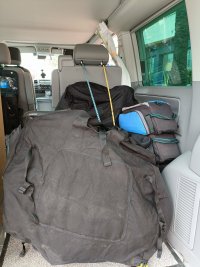 Nice and warm in hotel when only 5c outside at Salamanca and aircón in hotel when 24 c at night in Jerez. Great hotels with good views and still able to eat in room if do not want to eat in hotel, supplies in van.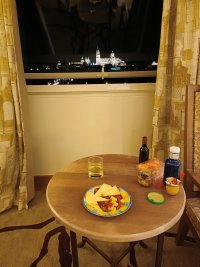 Van is great for picnicking
Still can go places with great views.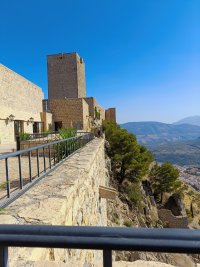 Disadvantages: cost