Viktorgeorge
T 6.1 Starlight Blue Ocean 4Mo MY2023
Lifetime VIP Member
Messages

244
Location
Vehicle

T6.1 Ocean 204 4 motion
I have a HEX+CAM VCDS for sale with unlimited VIN, i.e. works on all applicable cars (see below).
Before I post on EBay I thought I would offer here. You can check EBay for approximate value, any reasonable offer will be considered.
I bought this new in 2007 to tweak my then new Phaeton and since then have only used it a few times pre-service. Condition therefore is as new.
I was disappointed to discover it does not work with my new Ocean: see notes below from helpful dealer (Gendan.co.uk). From this understand that all VW California until fairly recently are compatible, though I am no expert.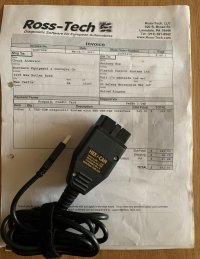 Mike West of Gendan advises:
"The HEX-USB+CAN (HUC) interface was discontinued at the end of 2016, as in 2016 Audi unexpectedly started to introduce new systems in the A4 and Q7, that Ross-Tech were unable to support with the HUC hardware.
From then on, these new systems began rolling out in more and more models and systems as cars were updated.
Ross-Tech continued to support existing models as best they could with the HUC until the end of the 2018 model year, but any models built on entirely new platforms (such as the 2017-on VW Polo, and the 2017-on VW Crafter) were heavily reliant on these new systems.
To save confusion, Ross-Tech drew a line in the sand with the 2019 model year (on sale from mid-2018), and only cover 2019-on model year cars, (and any vehicle built on a new platform from 2017), with their new HEX-V2 and HEX-NET interfaces, which support the new systems.
Given their unlimited VIN coverage many enthusiasts working on older cars want unlimited VINs rather than coverage for brand new models."