Auberg-ine
Is it an office? Is it a lounge? Is it a camper?
VIP Member
Messages

599
Location
Vehicle

T6 Ocean 204
Still looking to bring the spirit of the early years inside this new T- generation, Not that I'm looking for daisies painted all over, but still, something more than the clinical plastic standard, no? So, inspired by this: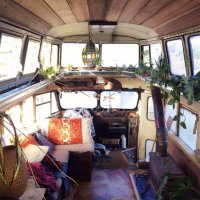 , I started last weekend with a little mobile 'herb garden' that I strapped at the back of my head rest. And till now it's a thrill. Each moment I enter the van I am overwhelmed by the fresh smells. Out goes the Ambi Pur air refresher! While driving I get fragrances of Thyme from behind my ears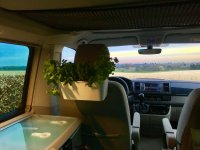 For lunch I prepare me a fresh tomato-mozarella with basil, or a nice genuine mint tea. The Ikea colander which I used for it, obviously still serves to wash down the veggies for the sandwich.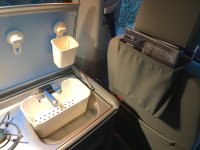 Next step could be that I extend this mini 'greenhouse' project by dropping my mobile led lights in the 'ex-safety net' I installed right above it, and add special filters (like I did with the standard lights) to make them grow hanging at the ceiling, and so that I could harvest...
well, that's now my question. Is there anybody as crazy with some more experience? Or somebody else who has growing things in the cali, (except for some uninvited fungi
)? I know when I ask our son, who studies bio-engineering, he will come up with some pot

The advantage I have is that the car mostly stays outside, and that I use it daily. So the monitoring is easy.
Who knows, I might end up cultivating real aubergines...