Messages

254
Vehicle

T6 Ocean 150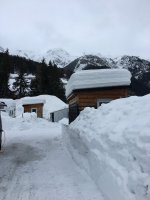 Juat arrived in Pettneu nr St Anton. Will post some more things as we go along in the hope it may be helpful for others considering winter camping. First thing we learned is that petrol stations on German autobahns can be a long way apart. 65m warning light came up and no service stations for 55m. Bottom clenching moment as we pulled off at Kahrlsruhe and through the wonder of google maps found a a self service station open at 5:00am coasting in on vapours!
Campsite at Pettneu is geared up for winter camping. Just hope we are!
UPDATE:
So we are now back home. Great trip. Thought it might be helpful to share a few random thoughts which may be of use to others. Some may think they are obvious, but they weren't all to us!:
If you are ski camping and get a bus to the lifts investigate storing boots/skis at a hire shop near the lifts - saves lugging them about at the end of each day. Also means you can go for drinks/dinner at the end of the days without luggage.
In terms of comfort/warmth (-15 over night) the diesel heater on L1 was perfect. Used less than quarter of a tank over 5 nights. We also had an electric oil filled rad which we left on all day to keep the Cali above freezing.
Didn't use water/waste tanks. Just used water from the tap in en suite bathroom (shed) as needed.
Did more 'cooking' than expected. One/two pot meals, but nevertheless enjoyable. Gas cooking also provided a bit of extra warmth.
If you are cold/damp at end of day's skiing dive into a bar for a drink/dry out/warm up before going back to your Cali.
Be organised/tidy. I know that's how most people operate in a Cali, but it's even more important in this case when you have extra gear, etc to consider and no outsider space.
Fill up with diesel close to resort - local diesel is designed for the more extreme temperatures you may endure.
If it snows sweep off roof/screen daily. Looks lovely left on but you don't want to be digging out from a drift just before you leave!
Hope this helps someone. Would throughly recommend a ski camping trip. We were going in to the unknown. Would DEFINITELY do it again.
One other thing we learned - the VW roadside assistance service is very prompt. Had to call them out 60 miles from home. Given we had travelled overnight from Austria the AA man took pity on us and rather than call a low loader (3-4 hours wait) followed us as we limped home! Top man!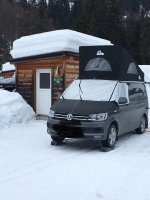 Last edited: