2into1
Née T4WFA. Now running 2006 LHD T5 SE 130 Manual
Super Poster
Lifetime VIP Member
Messages

4,218
Location
Vehicle

T5 SE 130
Can anyone identify the type of tyre valve in the photo below? It's on an early Cali but isn't OEM.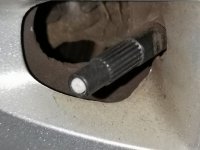 It doesn't appear to want to unscrew - it might do with force but I don't want to force it and twist it out of the tyre. Press the white button and air escapes, just like pressing the pin.
My foot pump won't latch onto it.
I'm at a bit of a loss how to pump up the tyres. Asked at a local garage today and they'd ever seen them.
Your advice welcomed.