hotel california
18 'till i die....
Moderator
Top Poster
Lifetime VIP Member
Messages

9,946
Location
Vehicle

T5 SE 140
So here i show the very easy to put in magnetic fly-screen for the sliding door on the T5 and 6
It comes from Maxxcamp and i bought it few weeks ago at Camper Centrum Nederland where i was for a oil change and check-up on my 2012 SE .
Some saw it at the meet last week in Tewksbury , now here a few foto's
It can stay in place and still close the sliding door , easy from outside using the outside handle , bit harder from inside to reach to the inside handle.
Brandrup got simular to attach with velcro you need to stick one side off the velcro permanent in the dooropening , think magnets are much easyer.
One thing , the Brandrup one is 152euro in the cataloge , don't ask the price on thisone becouse it is higher....
but just a few € ....say 8....
Again a overpriced item but it comes handy , as it already did the last two weeks on our Wales trip.
Guess the midges in Schotland just fly through and eat you.....
http://www.maxxcamp.de/en/index.php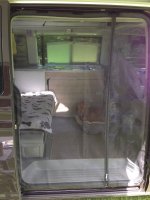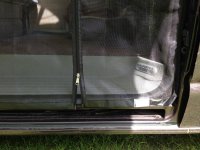 Last edited: