motacyclist
Colin
Top Poster
Lifetime VIP Member
Messages

4,169
Location
Vehicle

T6 Ocean 204
We just spent a lovely few days on the Lleyn Peninsula and stayed at the site for two nights. The location is shown below, it is well placed for the two beaches you can see on the satellite map. You can park on the cliff top at the NT car park if you don't feel like walking from the site.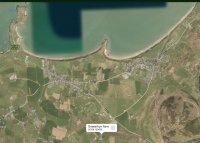 It is situated a mile or so inland, which suited us as it is sheltered and the peninsula can get a bit windy at times. The site layout is shown below, only 5 vans are allowed on the main field pitches, but there is no restriction on the other pitches. The prices shown include hook up, we were charged £15 a night. You don't need to go searching for the friendly site owner, Ian; you can pop your money in the honesty box and write your reg number on the envelope provided. The site is fairly level. There is one static caravan on the site which can be hired. The nearest pub is about 10 minutes walk away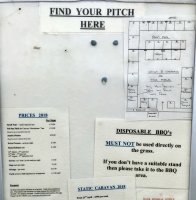 Facilities are very good, albeit not the latest type, which is a good thing maybe. There are 4 or 5 spacious unisex shower rooms with loos and washbasins in; plenty of room to get changed; as well as separate toilets and wash areas for ladies and gents.; and a washing up area. There is also a fridge/freezer to use FOC. There is a small play area for the kids.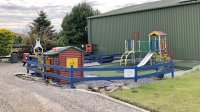 There are good views of the mountains from the site, with areas screened from the elements with hedges and trees. You can see from the windsock on the photo below that it can be windy, but there is sufficient shelter from the hedges. The pitches are of a good size.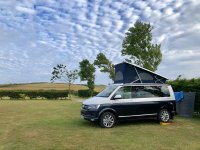 Would you believe it, there was an identical Cali just out of shot in the next field, family from Manchester!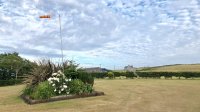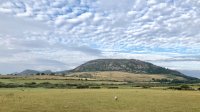 If you have never been to this area it is well worth a visit, the scenery and coastline can be spectacular and in my opinion rivals some of the more well known holiday areas in the UK that are now over commercialised and over priced. I'll put a few photos in the next post below.
Last edited: