Messages

130
Location
Vehicle

T6 Ocean 199
All,
I need some advice from the knowledgable masses please. I've searched every forum and absorbed all the information and variations out there (bikes on towbar, cargo on top, tilting racks, swinging racks, etc etc - but I'm still needing some additional information). I've thrown this into general chat, as it's the whole principle I could do with guidance/feedback on, not just the towing element.
We're a family of four (two adults, a 2yo and a 2mo) with a Cali Ocean 199 with towbar and OEM T6 bike rack on the boot.
To give us ultimately flexibility on long slogs we have a 5th seat so we can have the mrs in the back with the newborn facing backwards (but infront of her) and the eldest to the side - for snack passing and all the rest of it, as well as for winter months for when its a more dedicated people lugger. We've got the rear stopper in the rail removed, so that the bench can be pushed back, and on longer journeys, the rear bed rack will be attached to the bike rack. For those with kids and IsoFix bases know, you dont have any chance of turning it into a bed without immense faff, and sod all space to store the chairs anyway! So the flexibility can be ditched somewhat.
Currently we use our VW OEM Bikerack for a pushchair and/or Thule Easybag (300litres). When the kids get bikes, we'll obviously shift it to a 4 bike setup, rather than a pushchair and luggage.
Our next planned step is to get a Thule EaseBase 949 and Backup Box (example below)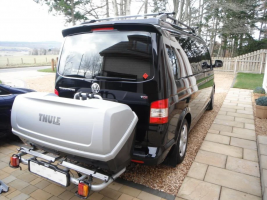 The purpose would only be for light stuff - flagpole, groundsheets, boardgames, some clothing etc - the light faff that gets in the way of everything else!
Now, I've never used a towbar in my life, and knowing how heavy the Ocean is, along with a 5th seat, loaded to the brim along with luggage on the VW bikerack and the towbar.... i've no experience on pushing axle loads, nose weights etc, so my questions are:
Is the Cali able to cope with both the towbar and the bikerack (noting theyre on the same axle) being loaded up with (say) 40kg of load each, and does the 5th seat (in terms of vehicle weight) need to be considered?
Has anyone used this kind of setup before (tagging @Simo as my insirpiration from another thread here) and what were the experiences of it?
Has anyone got any alternative suggestions/setups?
Mindful the tailgate cant open - but that isn't an issue for us, especially with the chairs pushed back further than standard. Going for a tilting one adds a few hundred £, and whilst bikes can fit on the top with a box underneath, the same setup doesnt work the other way around sadly.
Thanks all!
Tom