Messages

15
Location
Vehicle

T5 SE 174
Well, as this subforum says,
"A place to tell everyone about your pride and joy"
, so deciced to open a new thread here even there's something about my Calis - both the past and these present - under "Introduce yourself":
https://vwcaliforniaclub.com/threads/californist-from-finland.43258/
So the vehicle in question is rather ordinary T5 California Comfortline from 2005.
Almost straight after I bought this one ordered AP Coilovers, obtained a set of original 19" Canteras from a VW Amarok, installed Fiamma bike rack and after some smaller cleaning/polishing - like removing the TDI-lettering from the trunk - just enjoyed the season for quite sharp 10.000 kms.
This is from our last weekend out in mid October and since then it's been in garage.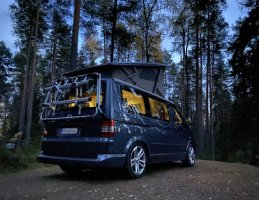 Brakes:
One project I knew would be coming soon was front brake renewal: I don't think the front pads would have lasted another season as there wasn't much until the wear indicator had come on. As the discs were clearly getting too thin as well that gave an great opportunity (or excuse?) for going for a bit larger brakes at the same. Yes there would be all kinds of fancy setups with Porsche calipers etc. but starting from original 308mm discs and TRW's 1-piston calipers even 340mm discs and 2-pot Ate-calipers (PR4 from 2010 onwards) are definitely an upgrade so got a pair of such from a stripper bay, got those sandblasted, painted, renewed all rubber parts and fitted with new discs and pads. Currently the stock rear calipers are off from the car getting a similar clean-up. Hopefully will get that finished soon as that's the biggest thing to be yet done before starting this season 2022.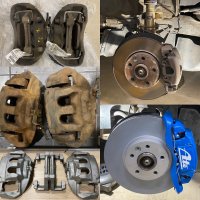 DRL's:
Another small sub-project got started already last summer, superseding the original front fogs with some daytime-running-lights. As the glass on r/h lamp was already broken it didn't feel too bad to utilize just the housing where I then fitted some universal LED DRL's (need to take one more picture with the lights on once have a chance). Thanks to a hint from another forum found out that there's actually separate TFL-pin (DRL in German) at light switch which is powered when the ignition is on but will drop the voltage as soon as parking or driving lights are turned on. So for wiring it was enough to push out and relocate the front fog light cord, now the DRL's are using original harness (with a modified connector at the lamp end).