Messages

200
Location
Vehicle

T5 SE 174
Here are our notes/thoughts from our recent NC500 trip, which may be useful for some.
(Some photos too)
Why the NC500?
With covid, 2 teenagers and limited time we chose to stay in the UK & use the Cali for our '21 summer holiday.
We spent time researching online, speaking to friends and a few evenings planning and booking our route in Jan 21 for our trip.
We chose to book ahead at campsites rather than 'free' camp.
Predictably, all campsites were full, so booking ahead this year proved a wise move, though lots of free camping seemed avail.
The ROUTE - Clockwise or Anti
We chose to go Anti clockwise, which in my view was the nicer route - leaving the twisty roads & dramatic scenery to the end of the holiday.
I'm not sure there is a right or a wrong way, but this route suited us for our needs (such as meeting friends along the way.)
Campsites
All the sites we chose were great.
We had electric hook up on most sites, but didn't really need to plug in every night, as most days saw >2 hours in the Cali, which appeared to provide ample charging for the batteries.
We had good pitches on all sites, with undoubtably the best pitch in Sango Sands (pitch 22f) as the last pitch on the beach front.
No problems on any of the bookings, arrivals, departures or facilities of the sites.
Tebay Services offered a halfway point on our return leg to Bristol - very good motorway services with all you need for a quick nights stop.

Itinerary
Route Map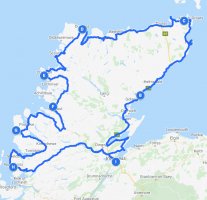 Highlights
Everyone will have their own needs/wants when on the NC500.
Here are some of the highlights from the trip, but there's lots more to see & do along the route.
Not far from Inverness a trip to Rogie Falls allowed us to see some salmon jumping, followed by a trip further east to Chanonry Point for spotting both seals and dolphins whilst having a bite to eat. Fab spot. £1 car park well spent.
A quick stop off at Dunrobin Castle with 189 rooms made us wonder what we'd do with more space then our one bed/dining/kitchen/driving room the Cali offered us.
Pulling into Brora caravan campsite, we chose a grass pitch and set up for the night. A sunrise visit to Brora Beach worth an early rise.
Whaligoe Steps - Parking spots are limited, but worth a trip up & down the manicured steps.
Zip Line in Durness was a hit with the kids.
Cape Wrath trip - No online booking meant for an early start to ensure we were on the 1st ferry over to the mini bus. (2 mini buses with 16 and 12 seats offer limited access) A splendid commentary for the hour mini bus ride over the bumpy 11 miles allowed for the time to pass pleasantly. Empty your bladders before you go!!!
Smoo Caves offered an afternoons activity, with deadly Scottish piranhas being the highlight of the boat/caving trip.
Sandwood Bay - 4.5 mile each way walk to a remote beach.
Achmelvich Beach - Looks tropical paradise but with water temps to take your breath away.
Falkirk Wheel & Kelpies - seemed daft not to pop in & visit here since we were so close.
Whale watching - hit & miss with Mother Nature, alas it was a miss this time with not much spotted, but still a good afternoon's outing.
Driving
The roads down the west coast gave us the true NC500 experience, with miles of single track roads with passing places.
All the drivers we met were very well mannered with people yielding and no hassles along the way. I think we were outside of high season, as the Scot's had gone back to school. I can imagine some of the roads getting clogged up, but we didn't really see much traffic. That said, a few reversing manoeuvres were needed, but in the Cali it's not too hard.
It's interesting to see such a high number of motor homes (clearly rented) and VW transporter type vans (again mainly rented from what we could see with decals and logo's). Many of the drivers did well to pilot their chariots, though we did note one campervan van driving on a campsite with the roof up!!
Fuel
I'd read fuel wasn't going to be an issue with the longest fuel stop gap being Inverness to Wick at 46 miles.
We chose to refill after Durness, and then topped up again to help support the locals around Applecross.
Suggest a refill at 1/4 left is good practice in case of pump issues. (AppleCross fuel was out of order when we where there.)

Fav bits
Ardmair campsite - a shore side pitch, overlooking the west. The shore line filled with endless perfect skimming stones.
Weather - we lucked out and had fab weather for our time, with only one wet day.
Lack of Midges - we were only bothered on 2 evenings by midges, so we count that as a win!
What we'd do differently
In hindsight, I think we'd spend longer on the route to allow more walking. Our timeline didn't really allow for day walks.
Seeing how easy the free camping spots were to be found, I think we'd also have more of a blend of some booked sites, with the odd free camping along the way.
(Toilet's being the only real concern)
Obligatory photo's with a Cali.
Ardmair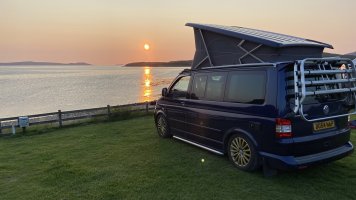 Sango Sands