2into1
Née T4WFA. Now running 2006 LHD T5 SE 130 Manual
Super Poster
Lifetime VIP Member
Messages

4,218
Location
Vehicle

T5 SE 130
I've had another change and sold (privately) my Ocean and bought a 06 LHD Comfortline (SE) instead. Here are a few pics and a brief (the draft got to 2 pages of A4!) summary of the reasons for the change.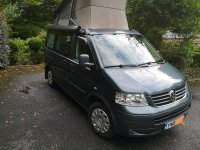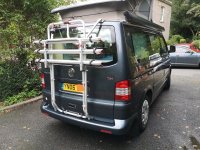 Why an 06 T5 than a 17 Ocean? Nothing clear cut but the following factors were playing on my mind: Felt too posh / mint for my lifestyle; a little worried about Cali residuals with an electric future; T6 emmisions complexity and costs out of warranty (t5 can go to my local vw specialist).
What do I miss? DSG, and the improvements to sound insulation and suspension crashes that came over the years.
Why LHD? Have a look how I park it...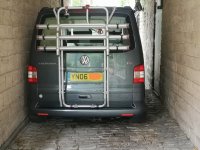 This the old passage for the carriages and horses. I need occasional access to the door on the right. Much easier to get close with LHD and proper 'fold-in' mirrors.
How did I find it? Private ad on here. Very few views, I suspect because it was lhd and in Aberdeen.
What's it like? One (unfortunately deceased) owner since importing by Deepcar in 2006 after being a showroom demo in Germany. The owner Ben was a retired aircraft engineer and has done most of the servicing himself and kept amazing details. Freshly washed cotton overalls, diagnostic reader, multimeter etc etc in the boot. Upholstery as brand new, as is the rear floor and rails which have been covered all the time. There is a couple of small spots of roof corrosion on the awning side. The photo shows all the damage, the rest is clear, as is the 'pod'.
As it's lhd it has the posh dash and the front screen blinds the UK waited another 10 years for.
I'm (genuinely) loving the original wheel trims, tall 16" Cross climates and Fiamma faded scaffolding bike rack. I'm not sure what it says about me, but it is definitely more me!
I would have loved another T4 Westy but struggled to find one without quite a bit of rust.
I've stuck some more images as thumbnails for those interested - mostly showing how well it was cared for. I find these interesting as I took the risk to travel on a one way ticket to Aberdeen based on a very 'poor' advert and confusing conversations with the owner's widow, who bless her, knew very little about it. Just shows there are still good people about.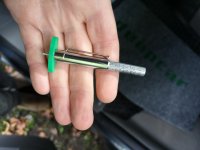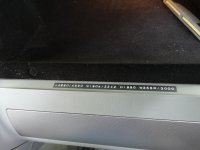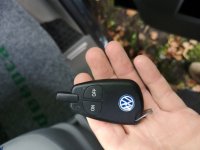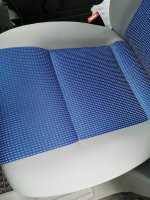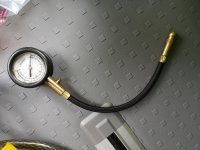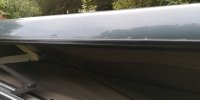 Last edited: