Messages

288
Location
Vehicle

T5 SE 174
We went to one of our favourite sites at half term and were a little caught out. We like the Camping in the Forest sites and Roundhill is our favourite for bike rides. As we checked in I asked "and are all the toilet blocks open?" and was met by a blank stare, a pause and "All the toilet blocks have gone, there aren't any. Sorry about that. Err it's on the website".
As we had been there half a dozen times before I hadn't actually checked the facilities. He was correct, it is on the website but hardly obvious.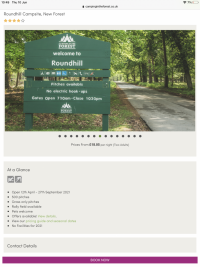 Fortunately, to say the least, I had brought our COVID emergency Portapotti. It wasn't exactly the holiday we were expecting though. There were quite a few tent campers dotted about who didn't appear to have any loos with them. One lady complained that a big group of four families were next to her and were just using the bushes next to her van.
We have great memories of Roundhill but we aren't now sure we would go back. Just washing up in a bucket of cold water was a pain, let alone not showering for 5 days.