sidepod
Top Poster
Lifetime VIP Member
Messages

3,914
Vehicle

T4 PopTop
Ok we've all been there. Run out of gas for the hob. Obvs it never runs out as you're driving down the road but just as you're finishing off the jus for the steak. When that happens you'll get "the look" from the Mrs. Nobody wants that. !
Here's the solution. Strap in.
As ever, based on a 4 but fully applicable to 5,6 and 7's (when they arrive).
You will need one of these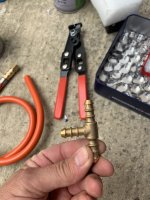 one of these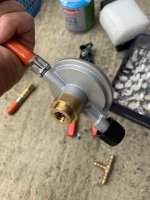 Inside the gas cubicle, snip the hose and install the T piece.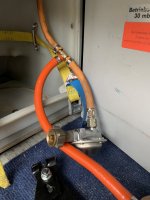 re-install the 907 and the small back-up canister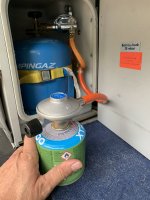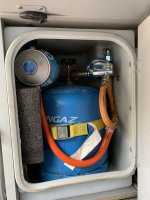 So now when the hob supply fails simply isolate the valve on the 907 and open the valve of the small canister regulator.
Back in the game. Buy a full 907 at your convenience.
I guess there are gauges to check levels etc but they're accurate to +/- five camping trips. With this system you can use every last bit of gas. I've always carried a spare 907 for the Cadac which stood in as a spare for the hob. No need anymore. Cadac now runs off the small canisters.
Don't clap, just throw money.