Auberg-ine
Is it an office? Is it a lounge? Is it a camper?
VIP Member
Messages

826
Location
Vehicle

T6 Ocean 204
Iemand tijdens het warme weekend de permanente spookrijders tegengekomen tussen Louvranges en Haasrode, in beide richtingen?
Ik krijg sinds vrijdag continu volgende bericht: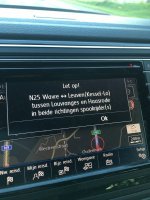 Iemand die hetzelfde reeds heeft ervaren? Of weet hoe te de-blockeren? Of wachten tot het weer omslaat, en de spoken de juiste richting kiezen?