Messages

996
Location
Vehicle

T6 Ocean 150
Just thought of something that is a big bonus for us. I have 2 stainless steel Thermos flasks that keep water seriously hot for 24 hours. Any water we boil that isn't used goes in them.
When we're camping I use my 1.5 ltr kellie kettle loads. As well as just for boiling water, cooking outside on top of it with the pot stand or starting/accelerating fuel for campfires or my Cobb. Storm kettles always must have water in them, so sometimes it's a happy bonus. Even if you are using it only for boiling water you can use free, foraged fuel, and boiling time is quick so it's worth doing a whole kettle and keeping some for later.
Our passenger seat stays facing forward as the dog's space so the flasks sit on the ledge when the seat's forward: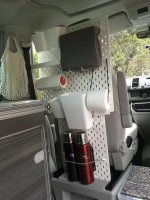 If we go out for the day, or are just on an overnight stopover, we boil the water at home and put the flasks in the back. Great for handwashing, especially at the mo.
Last edited: