Messages

1,451
Location
Vehicle

T5 SE 174 4Motion
In less than two weeks we will take off for a trip through the Spanish Pyrenees, from the Mediterranean to the Atlantic Ocean. We have taken our inspiration for this trip the last two years from a variety of sources (see
this link
for an interactive version of our inspiration map):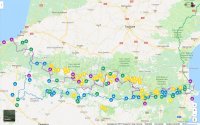 A trackbook we found on-line at vibraction.org. It describes a route from coast to coast, for 60% on off-road mountain tracks. The blue route and suggested campsites on the map.
A like route we reconstructed form a travel blog on the German caliboard.de from user BIM. The purple route and suggested campsites on the map.
Two little guides with one-day hikes in the Pyrenees. The yellow spots and suggested campsites on te map.
A series of suggested campsites from various forums and blogs (the green ones on the map).
We will probably be 'flip-flopping' between these while en route.
Going there we plan to dash to about Lyon, and then leave the (in)famous 'Route du Soleil' and meander south on D-roads with a minimum of three digits through some national and regional nature parcs (the green route on the map):
Parc du Pilat
Parc des Monts d'Ardeche
Parc des Cevennes
Parc du Haut Languedoc
Parc de la Narbonnaise et Méditerranée
Roughly a week going there, two weeks through the Pyrenees, and a week going back. We will try to share some impressions here!