Messages

730
Location
Vehicle

T6 Ocean 150
The

The new Cobb Premierre Air will have a removable bottom to make cleaning much easier. I have a SAfire as well (very similar to a Cobb) and the removable part at the bottom makes it much "friendlier" when cleaning.

Some people use the Cobb foil liners. They're expensive initially but quite sturdy - a lot of people wash them and get 10-20 uses out of one. Lining the Cobb yourself with kitchen foil is doable, but a pain because of the shape.

Some people don't clean them at all until they go home and then sandblast or use oven cleaner. Can't say I'd fancy hauling round or using a filthy/greasy/burnt on Cobb!
I have an Ortlieb 20 litre, square, foldable "bucket". Dimensions 30x30cm and 28cm high. You can leave the Cobb soaking in it overnight in soapy water. It folds down to next to nothing and fits the Cobb Premierre and Compact brilliantly.
It has loads of other uses as well so fits the multifunction criteria that's so important when space is premium: washing bowl, water carrier, food prep bowl, storage box, carrying bag and big enough to soak your tired feet. You can turn it inside out, so 1 side for "clean" and the other for "dirty" purposes.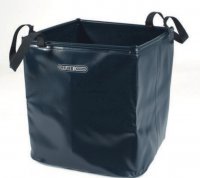 Last edited: