Messages

44
Location
Vehicle

T6.1 Beach camper 150
Have seen many posts about tyres, with most focussing on ensuring the correct load rating for the California (and the debate as to whether it is 103 - per the VW option tyres or 101/102 based on the front axle weight calculation method).
A lot of this seems related to using 20" rims, with 275/35/20 tyres which seem to come in a 102 rating and people debating the legality of that (which is not the purpose of this post!). Just wondering if there is a reason people aren't using a 265/40/20 which comes with a 104 rating from Michelin, Goodyear etc. Would seem to be a similar type of tyre (sporty SUV as opposed to cross climate type). Size-wise it is bigger than the 275/35/20, but seems a good replacement for the 255/55/17 (102) that is on the vehicle now: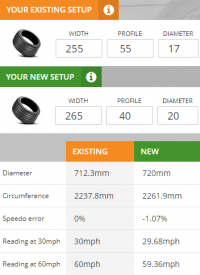 The 275/35/20 comes up about 700mm diameter, so you get more tyre on the 265 - so hopefully a better ride too (even though it will be harder sidewall).
Does anyone have experience with the 265/40/20, any reason NOT to go this route over the 275/35?