Messages

783
Vehicle

T6.1 Coast 150
After my tread about our review after 3 months
https://vwcaliforniaclub.com/threads/a-bit-long-but-honest-and-personal-review-of-our-coast.45819/
, the following:
As some might have read, I am not really happy with the quality impression of our new California. Don't get me wrong, it's a super campervan and everything we expected from it and more. It drives and brakes very well and what I don't like is my own fault (front lights; ordered no LEDs on our coast... Luckily I still have fog lights).
This mainly cares about the rattles and squeaks and creaks. This is huge. I understand the noises inherent in the concept that it is a campervan and therefore a converted transporter. I have already been able to solve a few with simple interventions (localization is a lot more difficult). But it's the other sounds that don't leave a good impression: squeaking from the front seat (first the driver's seat and later also the other one). The dealer tried to solve this several times, but actually spraying a bottle of silicone spray has solved the squeaking and cracking. I'm happy for that.
Now I have for over a month a creaking at the windshield at the bottom right (cali 3 months in our possession and bought new). Sometimes severe, sometimes less and sometimes (rarely) not. So strange. Yesterday we had a reasonable temperature drop here in the evening and the air conditioning was at 20.5 degrees celcius and it was 18 degrees outside... and all the way back from work to my home: no crackling. Now I suspect it has to do with the air conditioning. Maybe this one makes the windshield (or something else but it really sounds like glass creaking and ready to shatter) shrink due to the extreme cold going through a tube (maybe even incorrectly mounted). My question: does anyone else have this? And if so, does it bother you too and what did you do about it or will you do about it?
TIA
Greetings
Calibusje
Just a picture to show I am still proud with our new cali.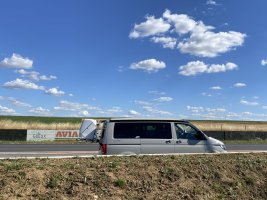 circuit Reims-Gueux, France
https://en.wikipedia.org/wiki/Reims-Gueux
Last edited: