Messages

797
Vehicle

T6.1 Coast 150
Someone once said: patience, he will come. Well: today, completely unexpectedly, a call from the dealer: our coast has been delivered. It took me by surprise and I thought: so yes, they are still being delivered… I am very happy and went to the dealer immediately after my work shift. There it was: in the right colour and not yet ready to be handed over, but man, is it beautiful in all its simplicity.
So on Sunday we leave for the last time on a trip with our old faithful T4 westfalia bus. Then arrange all paperwork and of course pay because that money has been in that account long enough (Ordered end of August 2020).
The dealer takes care of a wash layer and the tires will be changed with Michelin CrossClimat (maybe still waiting for delivery of those but hey, there are tires under it, we can already drive). For the rims I have a plan… The bike rack on and small things like the little hubcaps and then somewhere at the end of week 16 the California will take the place of the Opel grandland. I took some pre delivery pictures.
Greetings
Calibusje
Bruges, Belgium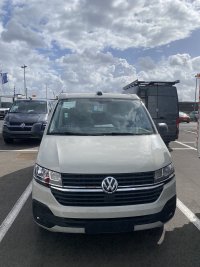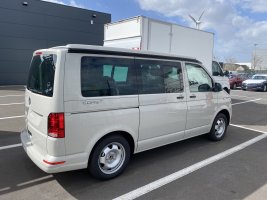 Oh, we are going to the UK on sunday with the eurotunnel; first time with us. Previously always by ferry.
Last edited: