Messages

565
Location
Vehicle

T6 Ocean 150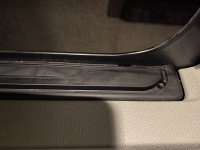 The slit that you're lighting is the drain hole - mine does not have what looks like two holes each side... but that, and there's one more at the rear (left) are the usual culprits...
I'd recommend a visit to the dealer for a replacement trim or try and seal around the drain hole - don't seal the drain itself!
If the drains are blocked, it may be causing the water to flow into the void below, so check that the drains are clear... you may get away with that, and clean the window seals...