Messages

4
Location
Vehicle

T5 SE 174
When I bought our Cali, the one thing that disappointed me was the shelves being missing from the kitchen cupboards. It's an 09 model so I guess previous owners decided to do away with them. I looked on the club shop and spotted the drawer kits and whilst not cheap, seemed to offer a good solution so when I got the email to say they were back in stock, I ordered a set. Super quick delivery (thanks CVB guys) and I watched the video which showed how easy they are to fit…. in later models.
However, a small amount of fettling on the bracket height, slight trim of the cupboard catch and hey presto we have drawers! My wife is now very happy with the cupboard. Just need a shelf for the left hand side now.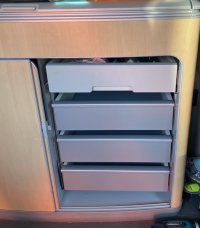 Also, the solar panel that I got from Solar Camper Solutions is working well, certainly keeps pace with the fridge power demands.