Aidy P
Don't play that 'What If?' game, you'll never win!
Messages

934
Vehicle

T6 Ocean 204 4Motion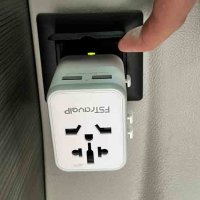 This travel adapter fits into the Type C socket behind the passenger seat
. It's handy to provide a UK socket though I find it useful for additional USB chargers with all the kids devices. I bought it from Amazon for less than £15. If you also need USB C, they do
one for but its a bit more expensive at £21
!