Messages

181
Location
Vehicle

T6 Ocean 204
We have had the T6 Ocean for 6 weeks now, and the interest in the never-ending optional extras isn't dimming yet! After a camp in the strong sun last weekend, we really fancied the extra shade the comfortz camping room might offer, but we are not yet convinced we need the whole room or that we can justify the cost right now. Hence the DIY option was explored this week to produce a 'front' for the awning which will offer shade, or some minor weather protection while cooking outside.
We purchased som
e

PVC heavy duty mesh fabric 220GSM

polyester, 14mm brass eyelets, nylon thread and 3m of Kador strip... and produced this.... see pics. Cost was less than £50 and we are pretty happy with the solution.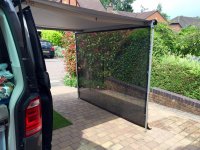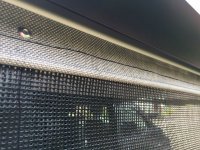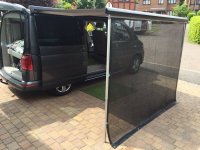 Next stop: some LED lights and maybe a awning rafter which I am investigating next.