Borris
Super Poster
VIP Member
Messages

5,504
Location
Vehicle

T6 Beach 150
Around four years ago my wife and I started to carry out some research into buying a large people carrier. Our family was expanding exponentially with new grandchildren arriving at regular intervals. So we could see the rapidly approaching need for a large multi purpose people carrier vehicle. After looking at all options our intention was to buy a VW Caravelle. However after talking to Laine Watts (the very knowledgeable SMG salesman), we actually ended up with a T6 Beach from SMG Tonbridge along with an excellent discount of +15%. With the options that we had wanted, the price difference between the two models was minimal, however the Cali is so much more flexible and practical for our needs. A Cali also seems to hold its value better.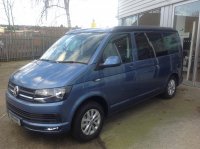 We first saw this unregistered vehicle in January. This extremely well specced Cali had been ordered as their T6 Beach demonstrator and by coincidence, had very nearly every option that we would have chosen. Unfortunately we had to wait until it had been registered and on their books for three months, so we couldn't pick it up until the 1st June. On collection day it had a total of 171 miles on the clock!
We have now had this utterly superb vehicle for three months and I felt that it might be helpful to those considering a Beach if I were to offer my impressions so far. I hope that I am right?
To date we have covered almost 4000 miles, using Bluebelle bus as a seven seater, as a five seater, as a load carrying van, as a school bus, as a beach hut, as a mobile safari camp during the school holidays, and as a car (well go cart) transporter.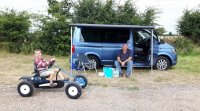 We have had numerous splendid picnics with her and she has been a real asset during the school holidays. My wife and I recently enjoyed a five night break in her, sleeping both up and down stairs. We have also had my elderly father's mobility scooter in the back when we took him on a day out recently.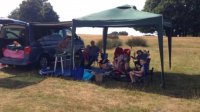 We wanted a general purpose vehicle to replace our ageing family car and so far the California Beach has exceeded all of our expectations. There doesn't seem to be anything that this highly adaptable vehicle cannot do well. As we are members of the Veteran Car Club, we even intend to use the Cali to tow a car transporter trailer with veteran car. However we haven't done that yet.
So what are my impressions so far?
Well this vehicle is the most roomy and versatile vehicle that I have ever owned, by a country mile. Every one who has either seen or ridden in BlueBelle bus has been very impressed and the grandkids all adore her.
The seats are all very comfortable, even after a long drive. Due to our littler grandchildren sometimes being messy, we have fitted waterproof covers to our seats and mattresses. I am sure that without these covers, the fabric seats would quickly look very second hand. The rest of the interior has easily wiped down plastic surfaces. The interior is very easy to rearrange into different seating configurations but as others have already said, the separate swivel seats are extremely heavy. Accordingly, we have purchased a trolley to move them to and from where we store them when they aren't in the van. It's definately a two man job to remove them unless you fancy a hernia.
Sleeping in her is very comfortable whether up or downstairs. The downstairs bed is huge. The three seat bench along with the multi flex board converts into an excellent large double bed. We have the optional VW Comfort mattress, which turns it into a proper bed. It is a little on the firm side but you soon get use to it. Without this mattress I am pretty certain that the rear three seater bench would be an intrument of torture to sleep on. However I haven't tried sleeping on it without the VW Comfort mattress so I may be wrong. If you intend to buy the Cali Beach with seven seater option, you can sleep with all seven seats in situe but it is far easier and better to remove the two swivel seats and leave them at home. This gives you far more room and turms the van into a very useable campervan. Sleeping upstairs is also a comfortable affair. Again some may find it a little on the firm side but my experience is that you very soon get use to it and it is actually a very pleasant place to sleep.
The manual roof is simple to operate and very well designed. IMO a much better solution than the over complicated electro/hyraulic roof on the SE/Ocean. However, as well as the potential for damage from the roof scissors you also have to watch that you don't trap the canvas in the hold down catches at the front. This too can cause holes in the canvas. No leaks or damp through the new style T6 canvas yet.
The standard dash is very practical and has lots of useful compartments to store stuff. IMO the fancy dash is much less useful with less storage and the reflections from the shiny plastic would only annoy me.
Our Cali came specced with the top infotainment option. The one with the big screen and the two slots for the card thingys. Sorry to be vague but my co-pilot does the sat-nav stuff and knows all about that side of things. As long as I can find radio two and four thats where my interest in the techy stuff finishes. Haven't even bothered to join the phone to the system yet. Absolutely no interest at all. All I can tell you is that my wife says the system is excellent and has lots of very useful functions including the height above sea level!
The diesel parking heater is superb and a must have option although apart from monthly test runs, we have only used it once so far.
The suspension does crash and thump a lot over bad road surfaces. However, it is based on a commercial panel van so what can you expect. As long as it is built to last I can live with that. Over good surfaces it rides very well especially if well loaded.
The 150ps engine pulls well and is very smooth and quiet as long as you don't give it too much wellie. When you do it does get a little vocal and less refined. So far the average mpg reading is in the early to mid forties but I haven't been trying to achieve good mpg yet. IMO these figures aren't bad for a new and still tight 2.5 tonne van. Also I haven't carried out a brim to brim test yet. Apparently, you have to give the engine a regular run at around 2500 to 3000 revs for 20 minutes or so to clear the dpf, otherwise the engine may go through a cleaning cycle when you turn the engine off. When this happens, the fan is noisier than the engine and is accompanied by a nasty burnt smell. So once in a while its good practice to give it a thrashing to clear out the dpf.
The 6 speed manual gear box is very slick and easy to use. However the engine is so smooth and quiet that I have to admitt that I have forgotten to change up into 6th gear on several occasions so far.
Standard headlights are OK but could IMO be a little brighter.
The all round vision is good on the Beach as compared to the SE/Ocean and the parking sensors are very effective. The external mirrors are also very good, offering excellent rear visibility.
The three zone climate control is superb and has been very useful during the recent hot spell. However the rear control panel is a great temptation to little ones seated in the rear.
The rear sliding windows are very effective but are also within the reach of our small grandchildren who will insist on opening them when we are going along. That's fine but this can be a distraction and is unnecessary with the aircon on. We obviously have no control over them from the front seats and I would therefore prefer if they had some form of lock on them.
The multi function steering wheel is very useful and obviously enables you to control most functions without your hands leaving the wheel. A must IMO.
I didn't think that I would ever be saying this but the auto lights are very useful in fluctuating light conditions, as are the auto wipers during intermittent rain showers.
I haven't used the heated windscreen, the heated seats, the detachable tow bar so no impressions of those options as yet.
The VW cool/hot box is, IMO, OK but only for days out and when topped up with freezer blocks to give it a head start. It does cool reasonably well but if you are away for a long break, from our limited experience to date, I have the feeling it would struggle to stay cool and would probably keep cutting out automatically to avoid draining the leisure battery, unless on a hook up of course. I think it is really intended for keeping drinks etc cool on long trips but not as a proper fridge. If it hadn't come with the van I think I would have looked for a proper camping fridge instead. However it is well made and fits well onto the special bracket that attaches to floor rail system. It does make a good foot rest and coffee table.
It is worth mentioning that to get the most out of the vehicle you will need to reconfigure the internal layout for each new role the vehicle has to perform. Therefore you may need to remove the multiflex board, VW Comfort mattress, Cool box and perhaps the two swivel seats. My point is that you will need somewhere to store all of these very bulky bits when you are not using them.
Unlike the SE/Ocean there is no device on a T6 Beach to indicate the condition of the vehicle's Leisure battery, therefore it is essential to get yourself a plug in battery voltage tester and then carry out regular tests.
To be continued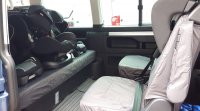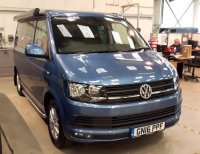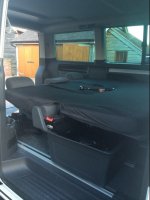 Last edited: