hotel california
18 'till i die....
Moderator
Top Poster
Lifetime VIP Member
Messages

9,860
Location
Vehicle

T5 SE 140
While on our current trip up to Denmark we took some homegrown vegetables as it's the time of the year in the garden and homegrown tastes so much better than others
We have leeks (had to google to translate from "prei" in Flemmisch) and potatoes fresh from the garden.
Brought a chickenbrest pre-frozen at home so can stay a few days in the Cali fridge , marinated and sliced in smaller pieces (easer to bake)
Butter and a small unit of soja-cream (Alpro)
She inside on the kitchenunit .
Me outside on the small portable cooker with the RidgeMonkey
Ingrediënts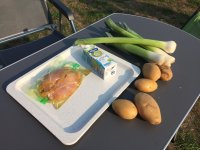 Peeling,
Slicing up..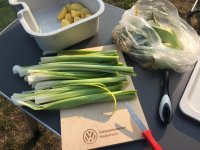 Here we go
Potatoes about 25min boil
Leeks stewed in butter about 15min while stirring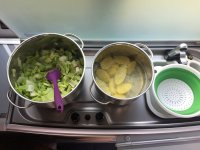 Add the cream to the leeks and another 5min on light heat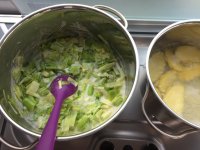 Chicken in the RM 8-10min
And serve...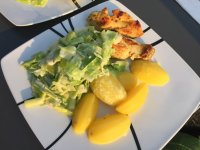 Good healty food very easy to cook !
Ok , Michelin won't be handing over stars , but still very happy with the result.