Hotel California
Top Poster
VIP Member
Lifetime VIP Member
Messages

10,612
Location
Vehicle

Cali now sold
Back home from a 17nights away from home trip thru France.
We started at the Champagnemeet @Champagne Nowack in Vandieres .
Those who want info on how the meet was (very nice i can say....!) look here:
https://vwcaliforniaclub.com/threads/champagne-meet-2017-pictures-and-reports.20810/
https://vwcaliforniaclub.com/posts/229774/
We left home on friday the 16th very early as my first plan was leaving thursdayevening and drive close to Vandieres and spent the night in a free aires so we could be @Nowack before everyone arrived. But the weather here was so bad i did not wanted to drive 350km in the dark afther a days work.
We got in Vandieres well before 11am and only
@Amarillo
was there allready as he arrived the day before doing his european trip and joined us at the meet.
We eventually stayed in Vandieres until monday midday as i wanted to be sure everyone got away good afther the meet .
The meet was super as you can read in the link above , weather all in all treaded us not that bad only shame it rained the days before and the grass on the campfield was muddy in some places.
A impression of the 24 Cali's parked up....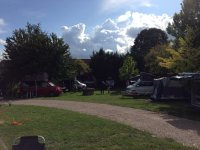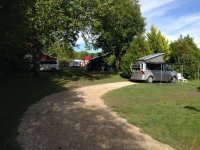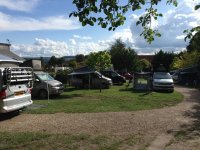 We stayed put all weekend after we drove 352km from our doorstep .
Got to meet everyone , drank champagne , did a walk in the region and enjoyed the sun !
On monday we packed up , sayed goodbye to the few who where still on site and headed to the centre of France .
We visited France a lot allready but many times the south-east region up to the Provence as my brother in law lives there now , he used to live in the Bordeaux region and this time the plan was to go down there once again.
We drove on N and D roads without a hurry enjoying the lovely french small villages and thru the Bois de Fontainebleau via Montagris and ended up at Chateauneuf-sur-Loire , the ACSI campsite Le Maltournee .(232km)
Was not bad and not many campers this time of season , the way we like it ...
Pitched up beside the river Loire , the evening sun was still out , payed 13€ all in .
When i say all in : we are two with a dog , electric and showers included as the ACSI pass gives discount in low season.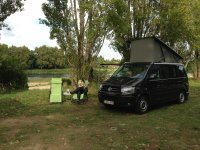 Last edited: