SusiBus
2-pedal power Peppa Pig trike
Lifetime VIP Member
Messages

694
Location
Vehicle

T6 Ocean 204 4Motion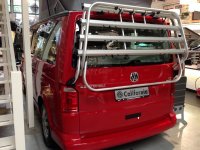 Having had a VW bike rack on our T5, which I think was a great design and part of the California look, we've ordered one to go on our T6 which we hope we will finally take collection of sometime in 2016!
But having seen the pictures of the T6 bike rack that have been posted on the forum, I just can't bring myself to put something that looks like a load of scaffold poles on the back of our new T6.
How on the earth VW tweaking with the design, sharpening minor details such the side indicators ,headlamps, rear hatch door etc, can make such a pigs ear of the bike rack which I think was universally accepted as a very good design on the T5, is beyond me.
Sometime ago I believe it was Hotel California posted this picture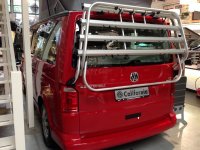 of a T6 at the launch he attended showing a red T6 with a T5 type bike rack. Does anyone have any information whether such a thing actually exist or is likely to exist in the near future?