Messages

64
Location
Vehicle

T5 SE 174
Hello,
I have a LHD 2006 SE. The right hand (passenger in this case) interior door handle doesn't open the door now. The exterior handle does however. My mechanic said I need to replace the entire door card because of some piece that broke which the handle attaches to.
Presuming this is the correct solution, I now have the issue of finding a replacement part, as he says it's discontinued. No surprise there really as I'm struggling to find one. The problem is that when searching for the part I mostly find the updated version.
First Question
- Are the newer style door trims compatible? I'm worried the way the speaker grille is oriented that my speaker won't fit inside it as it's pushed back
Here is mine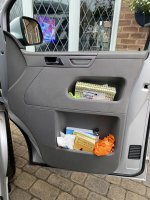 And here is the newer style part. Notice the speaker grille is set in further.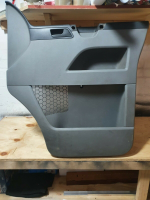 Next Question
- Do I have to buy a LHD right hand panel or can I buy one from a RHD and swap the window switch piece?
I saw one on eBay with the switch trims removed as below, so it looks like I may be able to keep my existing trims since the switches for the driver (both windows, mirrors) are on the left in my case.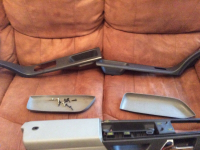 Understanding the answers opens up more options to me, I have seen a pair of matching panels for example:
https://www.ebay.co.uk/itm/VW-T5-Tr...river-Passenger-side-No-switches/233732430782
but I don't want to order and find out after that they need to be LHD