Radio-active
Mike
VIP Member
Messages

78
Location
Vehicle

T5 SE 180
I have just returned from Scotland and was asked by 2 separate California owners about the foil insulation I put around the Canvas roof if its cold or is likely to rain.
I am not claiming the idea as mine,

I think there is a company that sells them, others on this forum have made them themselves already.
But with the interest I thought I would post a picture and plan in case anyone else wants to make one for themselves as I think it works very well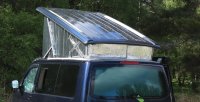 Check dimensions yourselves before cutting!!! (don't blame me


)
It is just double bubble foil insulation cut to shape and the edges sealed with Duck tape from Screwfix with a velcro closure.
You need:
1 roll
Double Aluminium Double Layer Bubble Wrap Foil Insulation 1.2m x 10m
approx £35
1 roll
Duck Original Cloth Tape 50 Mesh Silver 50mm x 25m
approx £6
1 roll
Velcro Brand Stick-On Tape White 20mm x 2.5m
approx £4
( with the excess foil I made a front screen and side window screens for use inside under the Cali blinds)
Advantages:
Relatively quick to fit under the struts and velcro to itself at the back (it is an advantage to be tall)..easier to fit than a Cali-cover but probably not as good in more extreme weather.
Largely stops the Canvas from getting wet in the rain.
Keeps the van dark inside in the morning when its sunny.
Warmer.
Lightweight.
Disadvantages:
It takes a couple of hours to make and costs just over £40
You can't use the windows in the canvas so the van is darker inside during the day.
When rolled up for transit its still about 300mm diameter and 1.02m long.
Hope this helps anyone interested