Messages

41
Location
Vehicle

T4 PopTop
Sorry, it has taken so long. Here is my review of our VW Cali. The 50-year anniversary model (hence the name Event). Purchase new in 2001, we continue to have great adventures and cannot think of how we will replace her, when the day comes.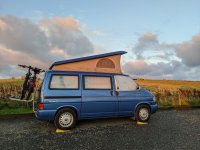 Most reviews you will read about a campervan will be for a shiny new model, recently launched by the manufacturer and plugged enthusiastically by a magazine or new owner in the first flush of love.…
trailplanner.co.uk
I very rarely see these in the UK but would love to hear from other owners.