Aidy P
Don't play that 'What If?' game, you'll never win!
VIP Member
Messages

817
Vehicle

T6 Ocean 204 4Motion
My 12 year old daughter has created these cool abstract designs and is selling them online to earn pocket money.
I've ordered these cushions for the downstairs of the van.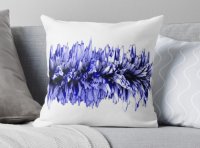 An crystal explosion of blue and white ice. • Millions of unique designs by independent artists. Find your thing.
www.redbubble.com